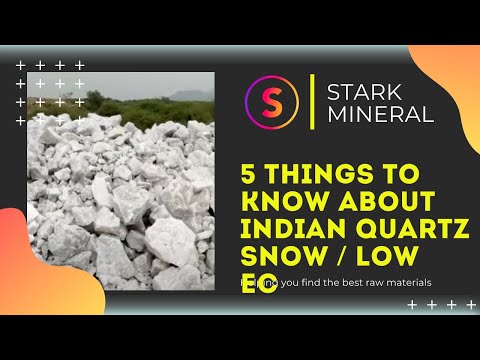 5 Things to know before you purchase Quartz from India:
– Quality of Quartz from India are generally found of different quality in Southern and Northern Region
– Northern Region specializes majority in Snow White Quartz whereas Southern Region has more premium Low EC Quartz which is used for electronics and advanced ceramics.
– Check for Manufacturer for Mining License in India before buying raw Material but if you require processed raw materials like grits, gravel, or powder you can check the Manufacturers GST business number in India.
– Average Range of High-quality Quartz lumps in India starts from 4000 up to 20000 INR per ton which is approx ~55 USD up to 270 USD ex-mines.
– Finding Quality Quartz at a cheap rate you India is not easy but you can get one. You can get find an online or direct manufacturer who owns mines.
Or you can visit directly buy from Stark Mineral Company with all verified Mining and manufacturing units in India.
Contact me at +919426500927 – Whatsapp | WeChat | Line | Zalo | iMessage | Skype or mail us at info@starkmineral.com
Stark Group is a Mining company located in India with Multiple Locations.
Our main products include:
– Feldspar (K-feldspar, Na-feldspar)
– Quartz (Snow, Super, Semi, Glossy, Low E.C.)
– Mica (Brown Muscovite Ruby Mica)
Stark Production Units:
– Stark Mineral, Rajasthan
– Stark Mining and Minerals, Rajasthan
– Stark Mines, Rajasthan
– Neelkanth Mines, Rajasthan
– PVR Metals and Minerals, Andhra Pradesh.
– Stark Microns, Gujarat.
Visit us: https://starkmineral.com
Product Catalogue: https://tinyurl.com/4h9mw5xc
email: info@starkmineral.com
Mob: +91 942 650 0927
whatsapp: https://Wa.me/919426500927