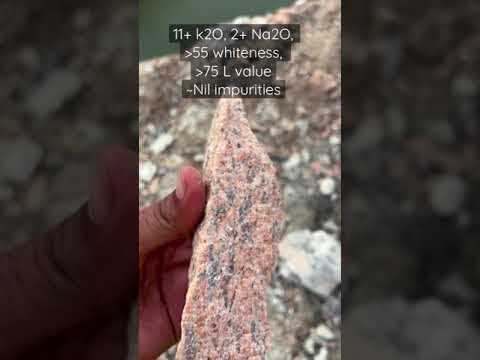 Pink Alkali Potash Feldpsar manufacturer in India. Manufacturing of powder is located in Rajasthan, Gujarat and Andhra Pradesh.
Types of Alkaline Materials like potash feldspar , Sodium Feldspar are available in Chips & powder form at Stark Mineral.
Pink Potash Feldspar in this video is type of Feldspar Granite formation which has alkaline content of 11 percent potassium oxide better for ceramic glazing application.
Stark Pink Feldspar from Andhra Pradesh has a special Characteristic and found rare in nature. This feldspar has high alkaline granules present in lumps of K-Feldspar and grains of Quartz. As feldspar is made up of 68% of Silicon Dioxide (Aka Quartz) hence will give brightness and whiteness for ceramic application.
For more information view Links below:
Shop at http://shop.starkmineral.com
Or
Visit: https://starkmineral.com