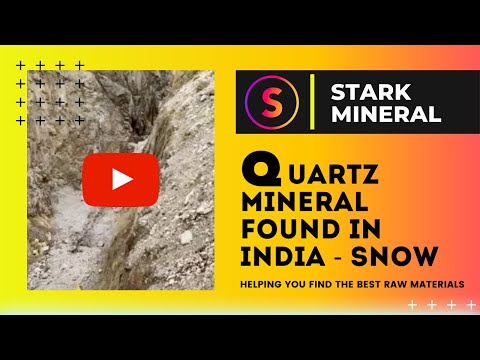 Quartz mineral is one of the most abundant mineral found on earth. But to find the best quality quartz for high end application like electronics you need purest form of quartz mineral with lowest impurities.
Quartz is also know as Silicate Mineral as it is made up of Silicon Dioxide with makes 99% of quartz mineral. There are various like of Silicate minerals one of the most common is silica sand which also comes from Kaolin clay as byproduct after processing for ceramic application.
Quartz mineral size ranges from grits, sand, chips, powder and lumps. All types of quartz like rose Quartz , snow quartz, semi-glossy quartz, glossy quartz, smoky quartz etc available at stark mineral group.
You can buy quartz online at –
http://shop.starkmineral.com
———————
Contact me at +919426500927 – Whatsapp | WeChat | Line | Zalo | iMessage | Skype or mail us at info@starkmineral.com
Stark Group is a Mining company located in India with Multiple Locations.
Our main products include:
– Feldspar (K-feldspar, Na-feldspar)
– Quartz (Snow, Super, Semi, Glossy, Low E.C.)
– Mica (Brown Muscovite Ruby Mica)
Stark Production Units:
– Stark Mineral, Rajasthan
– Stark Mining and Minerals, Rajasthan
– Stark Mines, Rajasthan
– Neelkanth Mines, Rajasthan
– PVR Metals and Minerals, Andhra Pradesh.
– Stark Microns, Gujarat.
Visit us: https://starkmineral.com
Product Catalogue: https://tinyurl.com/4h9mw5xc
email: info@starkmineral.com
Mob: +91 942 650 0927
whatsapp: https://Wa.me/919426500927
——————