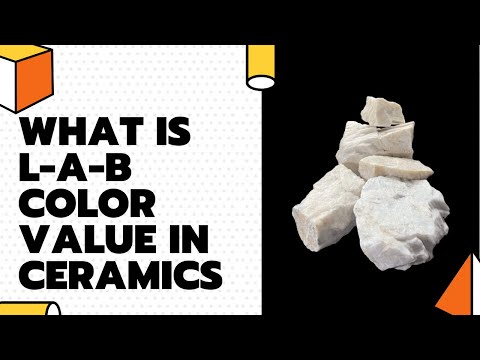 What is the LAB Value of raw materials in ceramics?
There are various Color channels through which we can measure accurate Color.
For example, you might have heard about RGB Color, which is RED BLUE and GREEN value that represents a particular value of pixel ranging from 0 to 255. Other examples are HSB, CYMK, or LAB.
Similarly, L A B is a type of Color mode where it measures Luminance and Chromatic Components.
L stands for Luminance ranging from 0 to 100 value – Higher the value, the brightest white it gets.
A Component stands for chromatic Color ranges from green(-120) to red(+120). A Positive value equals redness in the Color of your material, and a negative value represents more green Color.
B Components again stands for chromatic Color, but it ranges from blue(-120) to yellow(+120). So positive value represent yellowish Color in your sample, whereas Negative Value represents Blueish value.
—————
[BONUS]How to check the LAB test on any ceramic raw material?
So when it comes to checking LAB value. The best possible way to get prefect LAB accuracy is by checking the sample after the firing test.
Because:
1) All of the samples must be crushed into powdered form to get a consistent result.
2) Some materials are brighter in raw form but turn black due to the chemical reaction taking place at high temperatures, giving inaccurate results before firing.
Other interesting facts:
– High Presence of Whiteness L value also may represent the presence of High Silicon Dioxide, hence will affect shrinkage and melting as SIO2 has higher melting Temperature
– Be aware of Feldspar powder as it tends to react more in high temperatures and may get unexcepted results. For example – white-looking powder may turn into dark brown after firing as it has high iron content.
To Get the Best Feldspar, please visit: https:// starkmineral.com/products/feldspar
———————
Contact me at +919426500927 – Whatsapp | WeChat | Line | Zalo | iMessage | Skype or mail us at info@starkmineral.com
Stark Group is a Mining company located in India with Multiple Locations.
Our main products include:
– Feldspar (K-feldspar, Na-feldspar)
– Quartz (Snow, Super, Semi, Glossy, Low E.C.)
– Mica (Brown Muscovite Ruby Mica)
Stark Production Units:
– Stark Mineral, Rajasthan
– Stark Mining and Minerals, Rajasthan
– Stark Mines, Rajasthan
– Neelkanth Mines, Rajasthan
– PVR Metals and Minerals, Andhra Pradesh.
– Stark Microns, Gujarat.
Visit us: https://starkmineral.com
Product Catalogue: https://tinyurl.com/4h9mw5xc
email: info@starkmineral.com
Mob: +91 942 650 0927
whatsapp: https://Wa.me/919426500927
——————