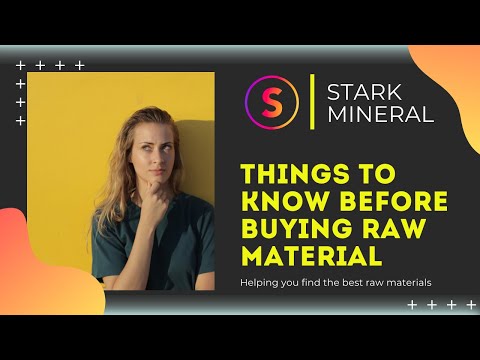 Consistency is the key to manufacture best quality products.
Here are 5 points that you must take care before purchasing ceramic raw materials:
– Finding out what process does manufacturer offers to process the impurities
– Advance technology and equipment helps to distinguish the manufacturer which then can help you get quality material
– finding out cheapest and best source in mineral lines is not easy but you can find one by checking if the manufacturer has own mining units which may provide low rate for best quality product.
– check what measures manufacturers take to prevent impurities.
– For powder manufacturers, check how they feed their material into ball mill. Does they have proper RCC STRUCTURE for stock yard? If not then you might end up getting impurities in your raw material.
Or you can buy raw material directly from starkmineral.com
We provide all the above facilities with high tech solutions to every problem. Our prime focus is client centric – Helping you to solve your problem.
You can also checkout our products range : Quartz & feldspar
To Get the Best Feldspar, please visit: https:// starkmineral.com/products/feldspar
———————
Contact me at +919426500927 – Whatsapp | WeChat | Line | Zalo | iMessage | Skype or mail us at info@starkmineral.com
Stark Group is a Mining company located in India with Multiple Locations.
Our main products include:
– Feldspar (K-feldspar, Na-feldspar)
– Quartz (Snow, Super, Semi, Glossy, Low E.C.)
– Mica (Brown Muscovite Ruby Mica)
Stark Production Units:
– Stark Mineral, Rajasthan
– Stark Mining and Minerals, Rajasthan
– Stark Mines, Rajasthan
– Neelkanth Mines, Rajasthan
– PVR Metals and Minerals, Andhra Pradesh.
– Stark Microns, Gujarat.
Visit us: https://starkmineral.com
Product Catalogue: https://tinyurl.com/4h9mw5xc
email: info@starkmineral.com
Mob: +91 942 650 0927
whatsapp: https://Wa.me/919426500927
——————