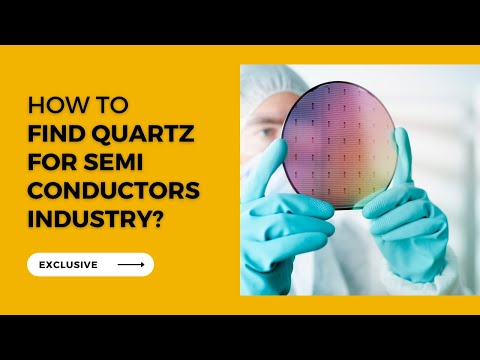 How is quartz used in the semiconductor industry – Exclusive by Stark Mineral
Quartz is used in the semiconductor industry as a key component in producing silicon wafers, which are the building blocks of semiconductor devices such as transistors, solar cells, and integrated circuits.
The process of producing silicon wafers from quartz typically involves the following steps:
Step 1: Mining: Quartz is mined from naturally occurring deposits generally found in Rajasthan and Andhra Pradesh in India.
Step 2: Purification: The mined quartz is purified to remove impurities such as mineral inclusions, clay, and iron. These impure particles affect conductivity in silicon chips. Hence must be cleaned thoroughly.
Step 3: Reduction: The pure quartz is then mixed with a carbon-reducing agent, such as metallurgical coke, and heated to temperatures above 1713 K (1440 °C) in an electric arc furnace to produce silicon.
Step 4: Ingot casting: The silicon is then cast into cylindrical ingots using the Czochralski process.
Step 4: Wafer slicing: The ingots are then sliced into thin wafers using a wire saw or diamond saw.
Step 5: Wafer polishing: The sliced wafers are polished to make them smooth and mirror-like surface.
Step 6: Wafer cleaning: The wafer's surface is cleaned using various cleaning agents and techniques to remove any remaining contaminants.
Step 7: Inspection: The wafers are inspected for defects before being sent for further processing, such as doping and lithography.
In summary, quartz is used in the semiconductor industry as the primary source of silicon which is the primary raw material for semiconductor devices.
To buy Quartz for Semi Conductor industry, you can contact Stark Mineral Group for the best Price! Information in Description Below! Hope you enjoyed this Video!
———————
Contact me at +919426500927 – Whatsapp | WeChat | Line | Zalo | iMessage | Skype or mail us at info@starkmineral.com
Stark Group is a Mining company located in India with Multiple Locations.
Our main products include:
 – Feldspar (K-feldspar, Na-feldspar)
 – Quartz (Snow, Super, Semi, Glossy, Low E.C.)
 – Mica (Brown Muscovite Ruby Mica)
Stark Production Units:
– Stark Mineral, Rajasthan
– Stark Mining and Minerals, Rajasthan
 – Stark Mines, Rajasthan
 – Neelkanth Mines, Rajasthan
 – PVR Metals and Minerals, Andhra Pradesh.
 – Stark Microns, Gujarat.
Visit us: https://starkmineral.com
Product Catalogue: https://tinyurl.com/4h9mw5xc
email: info@starkmineral.com
 Mob: +91 942 650 0927
 whatsapp: https://Wa.me/919426500927
——————